Contributed by Michael Milstein, Northwest Fisheries Science Center 
SEATTLE – An international team of biologists is setting out into some of the roughest waters in the North Pacific Ocean in the middle of winter to try to solve the fundamental mystery of Pacific salmon: What determines whether they live or die?
Pursuing Answers in the Remote Ocean
Perhaps the most critical, but least known, part of the salmon life cycle is the few years the fish spend on the high seas, gaining energy to return to their home rivers and spawn. This is where most of the salmon that stream out of Northwest and Alaska rivers each year disappear, most never to be seen again. Now the science team is headed into the remote Gulf of Alaska to try to find out which fish survive, and why.
"What we most need to know about salmon, we mostly don't know," said Richard "Dick" Beamish, a longtime salmon researcher in Canada who, with Russian colleagues, launched plans for the research expedition as a centrepiece of the International Year of the Salmon in 2019. He also raised about $1 million to fund the voyage. NOAA Fisheries contributed as well.
"Nothing like this has ever been done before to my knowledge, and I've been doing this for 50 years," Beamish said. "I believe that we will make discoveries that will change the way we think of salmon and do salmon research."
International Scientists Join Voyage
NOAA Fisheries has three scientists on board the survey, which includes top salmon researchers from Russia, Korea, Japan, and Canada. Scientists believe that Pacific Rim salmon, whether from Alaska, the west coast of the United States, or the east coast of Asia, all spend time in the Gulf of Alaska during their years at sea.
Fisheries biologist Laurie Weitkamp, who is based at the Northwest Fisheries Science Center's Newport (Ore.) Research Station, will be the chief U.S. scientist for the trip. Weitkamp's previous research has mainly focused on estuaries and coastal areas, she said, while the open ocean has largely remained a "black box" to scientists searching for better tools to predict salmon returns to west coast and Alaska rivers.
"This is not a place that is very easy to go and do science, especially in winter," said Weitkamp, who recognizes she will likely get seasick in waves known to tower 50 feet or higher, but is O.K. with that. "To understand what is affecting these fish, you have to go where the fish are, and now we are finally about to do that."
Fisheries biologists Charlie Waters and Gerard Foley from the Alaska Fisheries Science Center will be collecting samples for several studies to learn more about salmon condition and diet. In particular, they want to learn more about what pink salmon are eating and whether they are in competition with sockeye, Chinook, and coho for prey resources. All of these salmon species support important commercial, recreational, and subsistence fisheries in Alaska.
"We have a vested interest in knowing what's going on during the winter months," said Foley. "It is a critical, critical time in the life history of these fish."
The science team will set out in mid-February 2019 from Vancouver, B.C., on a Russian research ship named Professor Kaganovskiy, backed by funding from the Canadian government, the Pacific Salmon Commission, the British Columbia Salmon Farmers Association, and others. The ship will spend a month crisscrossing the Gulf of Alaska with trawl nets and examining the salmon they catch with tools that range from microscopes to DNA fingerprinting.
Salmon's Race for Survival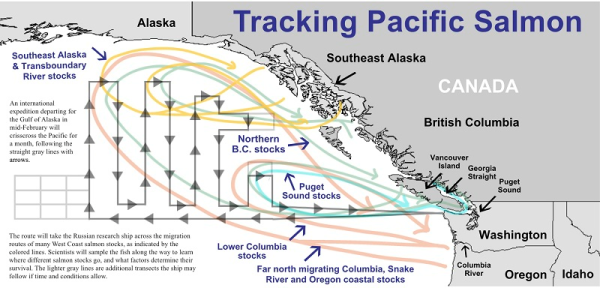 Scientists have long suspected that the fate of salmon migrating into the ocean is sealed during their first year at sea. The fish that grow large enough, fast enough to elude predators and make it through the first winter are the fish that will return to rivers to spawn–and to be caught in fishing nets. For the first time, the scientists aboard Professor Kaganovskiy will be able to test that theory, using clues like the tiny bones in the ears of fish, known as otoliths, that reflect each fish's growth.
Roughly 99 of every 100 salmon that leave rivers for the ocean never return. The team wants to know what distinguishes those fish from the rare salmon that make it back alive.
"This is the time of year when we think most of the mortality is occurring, so this is when we want to be there to understand the fundamental mechanisms that regulate the production of salmon," Beamish said. The better they understand the most influential factor affecting fish, he said, the closer they will be to providing more accurate forecasts of salmon returns to west coast rivers.
That, in turn, will help fisheries managers, fishermen, and others effectively manage salmon in a changing ecosystem, Beamish said.
Researchers also believe that different salmon stocks, such as those from rivers including the Snake and Columbia, migrate through certain parts of the Gulf of Alaska, capitalizing on the food available in different areas. The carrying capacity of those areas will also help determine how many fish return to the rivers.
"We've never been able to test that before," Beamish said. "Now we have a chance to be there and see it happening in real time."
FOR MORE INFORMATION:
Gulf of Alaska expedition

 https://yearofthesalmon.org/gulf-of-alaska-expedition/
International Year of the Salmon

 https://yearofthesalmon.org/
Ocean ecosystem indicators of salmon survival
https://www.nwfsc.noaa.gov/research/divisions/fe/estuarine/oeip/index.cfm