THUNDER BAY – A major dent in the supply of illegal drugs was made today by efforts of the Joint Task Force. Project Disruption has, according to police remove enough Fentanyl to potentially cause more than 500,000 fatal overdoses. The joint task force involves members of the Thunder Bay Police Service, OPP, Nishnawbe Aski Police Service and Anishinabek Police Service.
The growing regional issues with drug trafficking and addiction continues to grow.
The results of Project Disruption's first six months were shared with the public at a press conference at the Thunder Bay Police Service headquarters Thursday morning.  The data presented covers investigations that took place between Oct. 1, 2018, and April 5, 2019.
Members representing the participating law enforcement agencies included: TBPS Chief Sylvie Hauth; OPP Chief Superintendent Dave Lucas; OPP Superintendent Bryan MacKillop; NAPS A/Deputy Chief Darryl Snider; APS Insp. Derek Johnson.
"Make no mistake, this is an ongoing issue that will not simply go away," said Chief Hauth during her opening remarks.  "It will take continued joint efforts by our agencies. The criminal threat we speak of today is not just a Thunder Bay problem; it is a regional problem. "
The sharing of resources and intelligence between the four partnering law enforcement agencies resulted in 431 total charges being laid and the seizure of illicit drugs with a combined total street value of nearly $1.5 million.
More than $755,000 CAD was also seized as a result of these investigations.
Project Disruption seized a variety of weapons including 13 firearms, many of which were loaded, and more than 200 rounds of ammunition.
"When it comes to a weapon of choice they are pretty consistent with street gangs, and that's handguns," said OPP Superintendent Bryan MacKillop.
"These metropolitan-based organized crime groups have been operating and evolving for years," he added. "In this case, here in Thunder Bay, the most prevalent gangs encountered are (Greater Toronto Area) based.
Eighty suspected and confirmed gang members were identified or arrested through Project Disruption. Street gangs with southern Ontario origins include:
Ardwick Bloods
Blake Street Mafia
Breakfast Club Boys
Crips
Family Business
Galloway Boys
Greenbrae
Paper Boys Gang
Tanridge Crips
Thorncliff Park Kings
While Project Disruption investigations focused on gang activity within Thunder Bay, the actions of these gangs and the illicit drugs they distribute have had a significant and negative impact across the region.
The Nishnawbe Aski Police Service provides policing to 34 First Nation communities across a massive geographical area.
NAPS A/Deputy Chief Darryl Snider said among the top concerns for leadership in all of those 34 communities is that of the illicit drug trade and the ongoing efforts to combat it.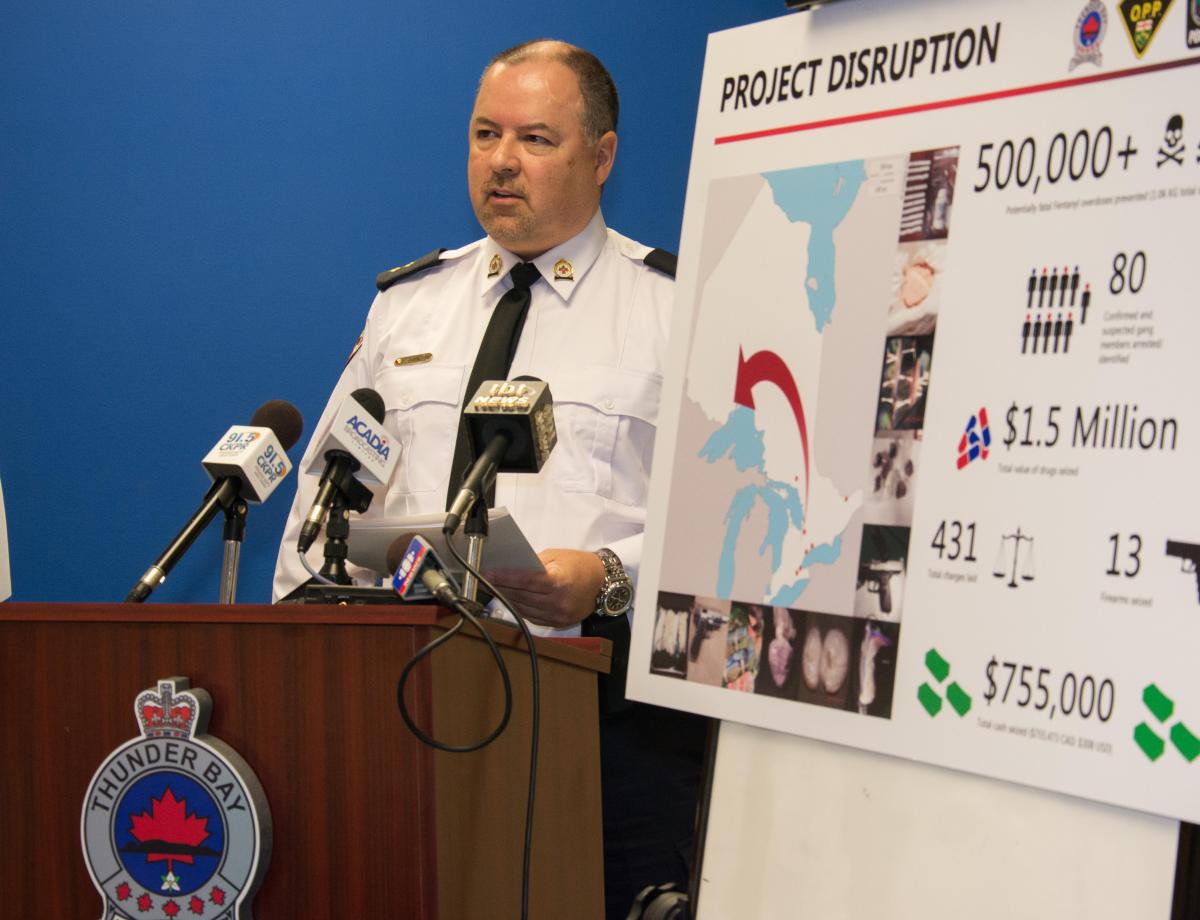 "Local community leaders observe firsthand the damage and impact the drug crisis is having on community members," A/Deputy Chief Snider said. "Our officers work tirelessly to stop the flow of illegal drugs into our communities. However, it is difficult to control the drug issues in our communities with the limited specialty units that the Nishnawbe Aski Police Service is currently funded for.
He added NAPS and the communities it serves are aware drug issues and gang activity in Thunder Bay are filtering into the north.
"For this reason, joint efforts such a Project Disruption, are so very important to fight this issue collectively as it does impact the entire region."
The current and ongoing success of Project Disruption is thanks in large part to public assistance, said APS Insp. Derek Johnson.
The Anishinabek Police Service polices 16 communities including Fort William First Nation. Just like NAPS, the APS jurisdiction covers a large geographical area that goes well beyond the borders of the District of Thunder Bay.
"They are preying on many of our First Nation communities," Insp. Johnson said of the gang activity and drug trade. "These gangs prey on our vulnerable people, contribute to addictions, mischief and property crimes, and use threats, violence and intimidation to control people."
Participating law enforcement agency representatives had a shared hope that the Project Disruption joint task force would continue, however, such a continuation does require investment.
"It will take a financial commitment to be able to maintain this success," said Chief Hauth.  "I am looking forward to the Province's announced funding to address guns and gangs.  We are in need of these funds here on the ground where this criminal activity is having such a profound effect."
Massive Seizure of Drugs