THUNDER BAY – LIVING – The other night I finally got to try it: Frog Prince lipstick!
My bff has been talking about this lipstick for months and I wanted to try it so badly. It is a colour changing lipstick that is unique to your own skin.
It's a neat idea that your lipstick could show the inner you for a unique colour but is it really ph and that unique or is it like mood rings that just change with heat?
When I was trying the lipstick queen's product called "frog prince", my friend had also bought the E.L.F lipstick"gotta glow". So I pit them against each other.
I found the E.L.F gotta glow to in the tube be a light pink, and darkened my lips a little bit. The frog prince, which is green in the tube turned into a darker pink with a berry tone to it.
At 25$us frog prince comes from a smaller line called Lipstick Queen.
"Unique to you – Frog Prince adapts according to your pH and skin tone to create your most flattering shade of pink" – lipstick queen site for "Frog Prince"
"This innovative lip tint reacts with the chemistry of your lips to deliver a personalized, perfect shade of pink, berry. or peach!" – E.L.F site
Gotta Glow is 6$us and comes in a light pink, purple or peach colour…. now this is my question:
why does it need to come in multiple colours?
So when looking into why and how these change colour I've read on a couple of sites like "into the gloss":
"Turns out, it's all due to an ingredient called Red 27. A dye the FDA lists as safe for use in drugs and cosmetics , its specific formulation allows it to be colorless when dissolved in a waterless base (i.e. a waxy lipstick). Once exposed to moisture, it turns a bright pinkish-red. "
So from what I can tell is that the only time it will change colours is depending on how wet or moisturized your lips are. Which will effect the intensity of the colour to activate the dye. Other dyes Red 6 Lake (CI 15850), Red 27 Lake (CI 45410), Red 21 Lake (CI 45380) can probably be the other colour changing factors for the different tints in the E.L.F lipstick.
The only real difference lays in your skin tone. It will obviously look different on someone with dark skin than it does on someone with a pale skin tone.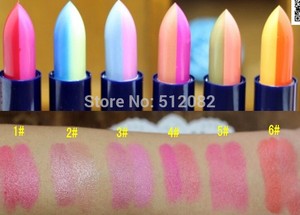 I remember having these ones when I was a kid, colour changing halves, one side is the "ph" change and the other side is a temperature one.  I believe there were from Wet 'n' Wild.
I think this fad comes and goes every few decades. it's been around since the 1920's, re-surging in the 70's, 90's and now. There are many different brands that carry this type of lipstick but for the novelty factor I would rather spend the 6$ on the E.L.F.
Scotia Kauppi
500 Frederica street W inside Hair Infinity Salon