THUNDER BAY – LIVING – If you know me or have been reading my blogs long enough you've herd my rants about permanent makeup tattooing and how I think its pretty stupid outside of fixing medical issues like scars, skin graphs and such things.
BUT I will say that the newest trend that falls into this grouping of tattoo makeup is microblading.
Microblading is a manual tattoo of implanting natural colour pigment into the upper layers of the skin using tiny, sterile needles. It doesn't use a tattoo gun like other kinds of tattoo makeup does. (see end of article)
This is why I love these:
The ink doesn't go as deep. To me it's a good thing because faces change over the years and so do style. Your hair colour ages, you skin sags, wrinkles and looses hair. Do you want to be stuck with 20 black wrinkly lines in your grey brows at 80?
  Semi-permanent hair strokes give the look of a naturally full and symmetrical brows. The brows will not wash off as they are tattoos, but unlike tattoos, they fade out over time. I have read times between 8-24 months to 3 years.
Be aware that because each client's skin will hold the ink differently, and break it down at different rates. An initial touchup is required at 4-6 weeks in order to make changes as necessary. On most clients, the brows will look dramatically darker within the first few days, and dramatically lighter after the first week. They will even out in colour as they heal. At the 4-6 week touchup, the artist will assess the colour and make adjustments as necessary.
Cost
Each set can run you anywhere between 300-500$ depending on how full and the shape that you need.
2 Ladies in town that I would recommend: Carly at Wink and Vanessa at Red River Trade Co.
Microblading is not recommended for persons with excessively oily or dry skin, severe acne, moles around the brow area, keratosis, keloid scarring, or facial psoriasis or eczema. Please note that if you are pregnant, iron deficient or anemic, bleeding and bruising may occur, and the pigments will fade sooner. You must be 18 years or older to undergo Microblading by most practitioners.
Cosmetic Tattooing
Cosmetic tattooing is also called permanent makeup, but can still have the need for touchups and maintenance.
It is usually recommended for those who have had a traumatic experience to their skin such as:
Scars through lips, eyebrows
Hypopigmetation on normally pigmented areas
Missing parts(such as lips, brows, or nipples from a mastectomy)
The thing is when you permanently tattoo eyeliner, lip liner, lip stick and eye brows: as I mentioned above your skin changes a lot.
Tattoos move around with your skin, that's why when you age, the blow out and get fuzzy looking as the skin looses elasticity and stretches. Your lips are one of the most skin overturned areas along with your palms and soles of your feet. The colour fades and can become looking patchy.
Your lips also recede when you age getting thinner and loss in colour, yet you will be stuck with this weird (possibly patchy) faint line a few mm above where your now elderly lips are.
Same goes for your eyes, they sag, fold, and wrinkle. Once again leaving you with a either faded or still super dark black line on your eye that is no longer straight.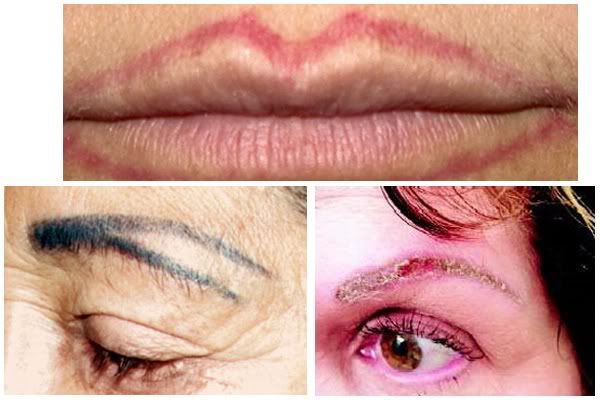 Lastly brows: at least with the microblading brow, it comes out after some time. If you are dealing with a problem of over plucking or bald patches then this is a service good for you. BUT as you can see sometimes where the practitioner puts your eye brows (especially when you have none) is very important. What looks nice might not always be natural. Your brows may come back within the 1-3 years… in the wrong place.
I still think microblaing is neat and a great idea. I am personally going to be booking an appointment soon and will write about my experience.