THUNDER BAY – Business Solutions – On Tuesday, October 22, Kendall (our Community Initiatives Officer; she's awesome) and I went to Lakehead Univeristy and Confederation College and put on our Change the World Contest, which was a huge success.  What is this contest?  Glad you asked! The Change the World contest was a campaign to raise awareness of our new Costarter brand (our new accelerator program) and get students thinking about changing the world on a budget; it's what we ask our entrepreneurs to do every day.
You can see all of the videos on the Costarter website.
Goals
I had three goals in planning this contest:
Raise awareness of the Costarter brand on both campuses and via social media through sharing videos
Challenge students to think about how they would change the world on a budget
Ultimately, drive more applications to the Costarter program
To me, Costarter isn't just a new program for us, it's a way to further encourage and establish entrepreneurship in Thunder Bay, a city I happen to be quite fond of.  Costarter is a community effort and I firmly believe it "takes a village" to fuel an entrepreneurial ecosystem and grow a company.  I also think we're not as connected as we could be to the university and college students, and traditionally accelerators have recruited from campuses where a student's cost of living is much lower.
Incentives
As we've talked about when we go on the road, properly incentivizing people is extremely important and must be proportional the the effort you want your users to spend, so we devised three prize tiers: $500 for first place, $250 for second and $100 for third.  We thought this would get students to participate, beyond their desire to have their voices heard on our topic.
In hindsight, I think the contest probably cost us too much money for the results.  It's a subjective result since we wanted awareness, but I think we would've seen just as much success spending $500 total instead of $850 (more on this below).
Details
We posted all of the videos online Wednesday afternoon and students were invited to vote until today: October 28 at noon.  So they were given roughly 6 days to vote.  I built the application that powers the site in-house and can make it available to anyone who is interested (though it's not at all polished).
Once they clicked the "Vote" button, they were asked to sign in with Facebook.  This was done for two reasons: 1) it allowed us to verify their identity and make sure they couldn't vote more than once and 2) it made it easy for them to do the next logical step: sharing.
After you voted, a window popped up telling you how awesome you were and asking you to share if you wanted to help this video win.  A screenshot of the vote window is below:
I believe this was one of the most important parts of the system: users were rewarded for voting and immediately asked to share the story for their own reason (they wanted this video to win).  A typical mistake people make is to input their own goals here: help us get more likes, spread the word, support our cause, etc. and in my experience this is almost always a mistake.  Just as with your business, you need to understand WHY your user is doing what they're doing and then use that as your call to action.
Results
So, I can now share some stats we're pretty proud of in terms of results:
The contest generated 1232 votes from 1133 users (users could vote for more than one video)
The contest page saw 5000 page views
The contest pushed an additional 1200 page views and 300 people to our main Costarter page to learn more about us
On Facebook, our stories were shared 503 times, seen 51,300 times and generated 521 clicks back to our site (a conversion rate of just over 1% for those following along — not bad).  These stories were liked 67 times and commented on 32 times.
One student applied to the program after viewing the site
The Facebook data came from the Facebook Insights tool for our "app", pictured below: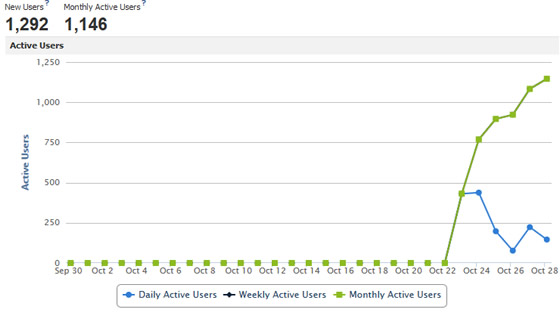 As a pure conversion ratio from users and views to actual applications, it's not great (0.3%) but we weren't very selective into who we were targeting with this contest.  As for our broader goal of "awareness", it's impossible to quantify, but people were certainly engaged and talking about the content as they walked around campus and for the following week on social media so I consider that goal a success.
Changes
If I was to run this contest again there are a few things I would try:
Do a better job targeting people that might be a better fit for the program, maybe by hanging out outside the business or engineering classes
Find an even more relevant topic for the video (we actually originally talked about having people either pitch their own ideas or give them a random object and they have to sell or pitch it, but we decided there wouldn't be enough general interest for raising awareness)
Find a better way to measure conversions to applications; right now this is based on Google Analytics, which is pretty good but doesn't let you do a deep dive since we're using a third party site for applications
Offer a single $500 prize or break down the tiers into smaller amounts (but keep it interesting enough – a fine line)
Overall, I think the campaign was a success for our first.  It was a lot of fun, we got to interact with a group of people we don't usually get to reach (students) and we got to raise awareness for our brand.  We also learned a lot of valuable lessons about what would will change if we run this contest again.
Interested in doing something like this?
If you're interested in running a social media campaign for your business, we should talk.  Give me a call at 768-6688 or shoot me an e-mail at terry@nwoinnovation.ca!